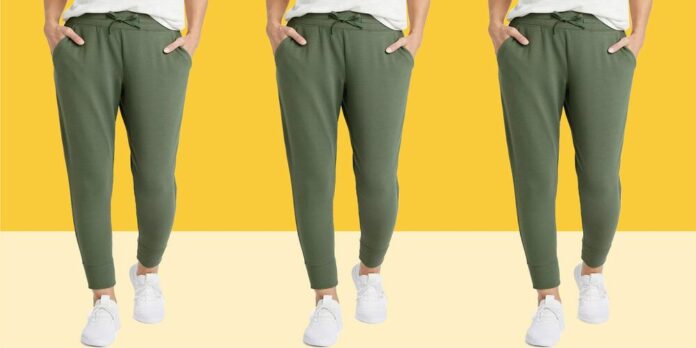 Fabrics may be deceptively similar in look, feel, and texture, making it difficult to tell them apart. However, being aware of the nitpicky distinctions in your fabric selections can allow you to make well-informed decisions while getting dressed for events and activities. French terry is one of these fabrics that you may need to familiarize yourself with. Even if you haven't heard of it before, chances are good that you've worn or at least come into contact with it in the context of loungewear or exercise apparel. So, if you're on the fence about what to wear today, let's explore why french terry sweatpants should be at the top of your list of options.
The Greatest Stretch Possible Terry Sweatpants
One of the primary reasons French terry is sometimes mistaken for a jersey is because it is so elastic. The loop and purl construction of knits like french terry sweatpants allows for fiber movement without compromising the garment's structure, making them ideal for active wear. However, you can go right with french terry when you require maximum stretchiness, such as when you're moving your body flexibly, as during a yoga class or dancing practice. You can bend, twist, crumple, or tug it without causing any damage to the fabric.
This Material Is Safe For The Planet.
Conventional cotton isn't exactly eco-friendly, with all the water and chemicals it needs to grow. However, these problems are addressed by organic cotton, a sustainable alternative to conventional cotton. Made without harmful chemicals, ethical cotton producers have figured out how to get by on far less water than traditional methods.
This Fabric Is Considered To Be A Midweight Option
French terry and other textiles of a similar weight keep you comfortable in both hot and cold weather. French terry is ideal for transitional weather since it is lighter than different types of loungewear created to help you wrap up, such as fleece. French terry is suitable if you're looking for a thin cardigan for a moderate day since it provides just enough insulation to keep you comfortable without sweating excessively. French terry is excellent for keeping in heat and protecting against the cold, so a lightweight pullover or soft, airy slacks are ideal on a warm day with a gentle wind.
Light Exercises Can Be Performed
A moderate exercise won't soak through French terry. French terry is made from cotton, which can absorb up to twenty-seven times its weight in sweat and strengthens when wet. Choose a thinner and lighter fabric for a high-intensity interval training session than terry. Still, if you're doing some mild to moderate activity, you can be confident that your french terry clothes will absorb sweat.
It Requires Minimal Upkeep
The care requirements of French terry are almost nothing. It can be dry cleaned like delicates so that you may wash it with your regular laundry. Also, even if a seam comes undone, you won't have to worry about fraying. Moreover, its elasticity makes fabric challenging to rip. French terry is designed to accommodate a wide range of motion, including high knees, lunges, and the most complex yoga contortions, without compromising your clothing's integrity.
Conclusion
Single-knit fabrics like French terry are elastic and plush. The single knit weave also indicates loops and piles, which provide a flat appearance (they face outwards), while the latter gives the fabric a textured aspect and feel. That's why it's easy to mix French terry with other materials like jersey, fleece, and terry velour. But it does have a few unique qualities that, when taken together, make it a great fabric to dress in.