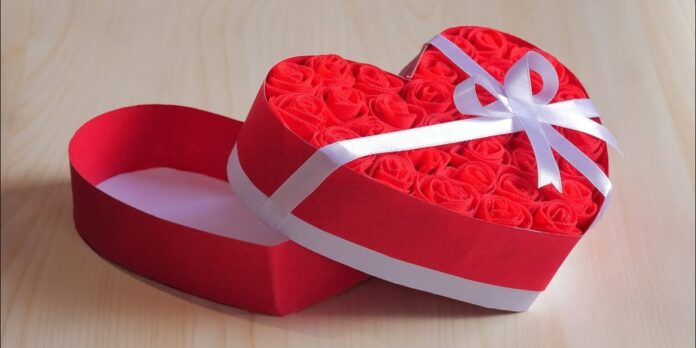 Finding the perfect Valentine's Day gift doesn't have to be difficult, primarily if you use a heart shaped gift box. Thinking of clever uses for heart-shaped boxes on Valentine's Day doesn't take much imagination. The celebration of romantic and platonic bonds is what makes Valentine's Day so memorable. Giving a themed present is one way to celebrate this special day. Many different types of gifts have a heart shape because of their long history with Valentine's Day and the concept of love in general. Get inspired by these creative twists on the classic heart-shaped gift box.
Sweets and Treats
Recipients on Valentine's Day often prioritize gifts of food. Many retailers have heart-shaped boxes of assorted chocolates, which make a sweet gesture. Alternatively, you may use heart-shaped cookie cutters to create a handcrafted gift (cookies, pancakes, French toast, etc.). Rice Krispie Heart Sweets are one of several delicious treats made with a heart-shaped cookie cutter. These recipes are not only simple but also delicious.
Photos
Put a fresh or old photo you hold dear in a heart-shaped picture frame. Another option that requires some time and work but can be highly rewarding is a picture collage in the shape of a heart that can be displayed on the wall as a present for your special someone. Pick pictures from their youth, your relationship, or your most recent trip. Put a poem, song lyrics, or a love message on a banner and place it in the center of the heart.
Jewelry
Gifts of jewelry can range from inexpensive costume jewelry like stud earrings and cuff bracelets to expensive pieces like diamond engagement rings and pendant necklaces. Jewelry is an heirloom that may be passed down through the generations. Even the most innocuous wristbands may signify the world to the person you give them to, regardless of cost. It's a great way to show off one's flair.
Food Basket
The options are virtually limitless when creating a gift basket for Valentine's Day. Keep in mind that store-bought baskets are lovely and may be pretty impressive, but making your own is enjoyable and allows for greater customization. Use a container in the shape of a heart to hold treats like chocolates, coffee, tea, biscuits, or anything else your heart desires. You could put up a spa-themed gift basket with some of my Pink Heart Bath Bombs, some moisturizer, and a cozy pair of slippers after a long day. You put together a basket filled with thoughtful goods and finish it with a bow or ribbon.
Aromatic Bar Soaps
These little trinkets are perfect for sprucing up the lucky recipient's bathroom or for a soothing soak in the tub. They are available in a fantastic range of hues, aromas, and novel textures. There are some with patterns and some with messages. These are too endearing not to think about purchasing for Valentine's Day.
Trinket
Thanks to this thoughtful present, she'll have a unique place to store her most prized possessions. With so many options, you're bound to discover something she'll love. You have the option of selecting either a metal or wooden box. Some of these beautiful cases play music when opened, so she'll think of you every time she does.